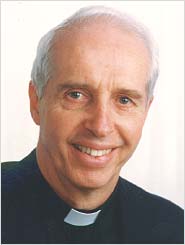 In a discourse to the Bishops of Switzerland, Pope Benedict XVI gave expression to the ideal I have kept before my mind in teaching and preaching the Word of God during my lifetime as a Biblical theologian. He said:

"I would very much like to see theologians learn to interpret and love Scripture as the Council desired, in accordance with Dei Verbum: may they experience the inner unity of Scripture… and then make a spiritual interpretation of it that is not externally edifying but rather an inner immersion in the presence of the Word." Hasneh Media was created precisely for this reason: to serve the Holy Spirit's action in bringing us to the "inner immersion in the presence of the Word."
I offer a selection of my materials from my years of teaching, preaching and writing, in response to many requests for this material. You will notice that the sermons can be downloaded gratis. These, I feel, have been part of what was "freely received" from the Lord, and are thus "freely given." I have asked a rather modest price for the teachings in order to help in my research and to keep up the web site. St. Paul tells us:
"For whatever was written previously was written for our instruction, that by endurance and by the encouragement of the scriptures we might have hope" -- Romans 15:4
I pray this for each of you.
-- Fr. Francis Martin